Version Française | English Version
Eiffel Tower is 126 years-old
The 31st of March 1889 the flag was raised on the top of the Eiffel Tower during the Universal Exposition. This exposition celebrated the centenary of the French Revolution of the 14th of July 1789. For the 120th anniversary of the "Dame de Fer" (Iron Lady) as French people says, 25 painters like mountain climbers will repaint the 250,000 square meters of beams and joists during 18 months. This 19th season of renewal requires 60 tons of lead-free paint "brown Eiffel Tower", a patented color. Three colors of paint are used, the tone of the summit is more clear to the Eiffel Tower appears uniform in color, as beams are closer from each other at the summit. This brown Eiffel Tower is the original color, but the Eiffel Tower was also golden-yellow, then in 50s in red.
26/11/2015 16:55
Picture updated every 10 seconds.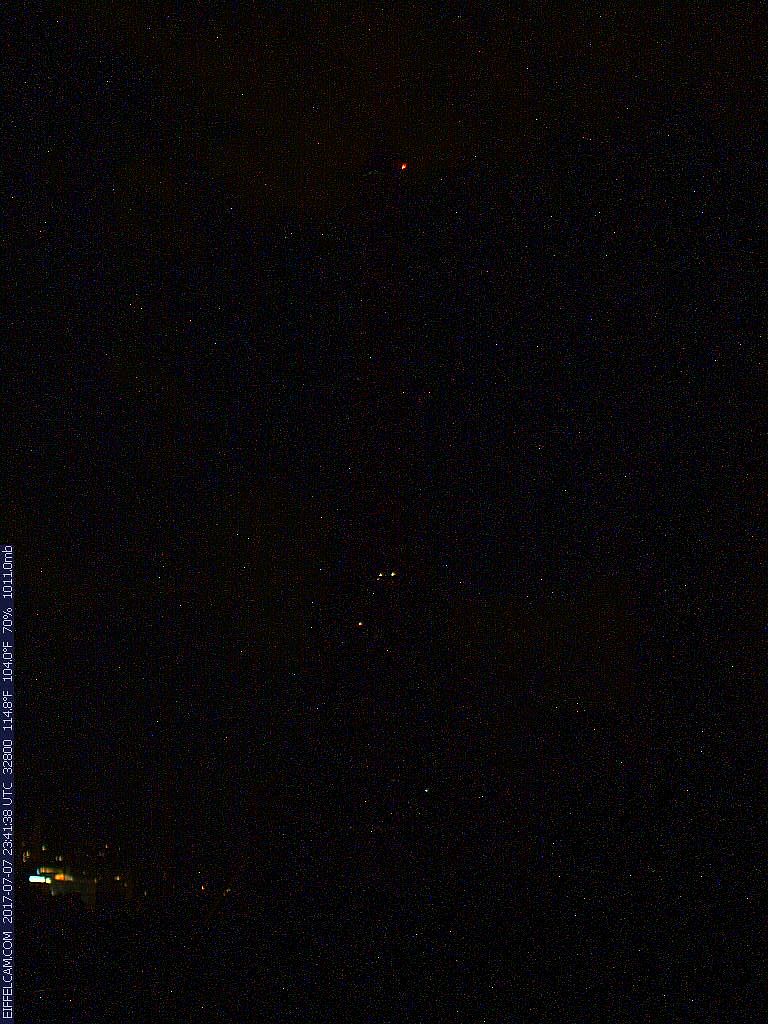 0 visitor(s) of the Eiffel Tower this day.
Location: 48°51'37.80"N - 2°17'11.05"E
This webcam lets you see the Eiffel Tower in live. Picture is updated every 10 seconds.
Every hour, when lit, the tower shines for 10 minutes.
The Eiffel Tower in Brief
The Eiffel Tower ("Tour Eiffel" in French), was first named Tower of 300 meters (984 ft). It is an iron tower built by Gustave Eiffel and his collaborators for the Universal Exposition of 1889 which strated the 31st of March 1889. Built on the Champ de Mars (literally "Field of March") beside the Seine River in Paris, this monument become a global icon of France and is the 9th more visited touristic place of the country in 2006 and is the most visited paid monument in the world in 2007 with 6,983,000 of visitors.
Today, the Eiffel Tower is 324 meters tall (1,062 ft), thanks to the addition of antenna for 24 meters. Nevertheless, the tower was the highest building in the World for more than 40 years, a title it retained until 1930 when New York City's Chrysler Building (319 m — 1,047 ft tall) was completed.
Key Figures
Place
7th arrondissement of Paris
Builder
Gustave Eiffel
Engineers
Maurice Koechlin & Emile Nouguier
Architect
Stephen Sauvestre
Project
Started in 1884
Construction
Between 1887 and 1889
Height
324 m
1,063 feet
Weight
10,100 Tonnes
Composition
18,038 metal parts assembled by 2,500,000 rivets
Number of steps to the summit.
1,665
Number of Visitor
6,893,000 in 2007
Total Number of Visitors since 1989
243,376,000 until the end of 2008
Capacity (Number of visitors)

| | |
| --- | --- |
| 1st floor: | 3,000 |
| 2nd floor: | 1,600 |
| Top: | 400 |
| Total: | 5,000 |

Access

Subway (Métro) station Bir-Hakeim Line
Station of the RER (Regional Express Network) Champ de Mars - Tour Eiffel Line of the RER
See also (all links are in English)
Métro Paris : Visit Paris by Metro
↑ Haut de page

.
Loïc LE MÉTAYER, depuis 2006
Me contacter